DIGITAL UNIQUENESS GUARANTEED WITH THE BLOCKCHAIN
The main characteristics of an NFT are its uniqueness and its perceived security. However, with current NFT standards, this security is only surface deep. During creation, the contents are not transparently defined and the included metadata, the all-important details, are open to manipulation. The problems of authenticity and provenance grow substantially for physical artworks. As a leader in artwork digitization and handling security, 4ARTechnologies offers proven solutions for these challenges with its NFT+ standard.
KYC for all creators
As with all 4ART users, creators have to be KYC authenticated in order to mint an NFT+. This ensures security for not just the creator, but all users of the ecosystem.
Transparent rights statements
Creators clearly state their right to mint the NFT+ and enshrine the contained rights and privileges in legally binding documents, providing security and transparency to future collectors.
Blockchain & standard choice
Choose from a variety of protocols and standards, including Ethereum, Tezos and Binance Smart Chain to digitize single artworks or entire collections.
Contained immutable frameworks
Legally binding documents transparently state the enclosed rights and privileges as part of the NFT+ metadata. Stored on the Ethereum blockchain, what you collect is no longer an assumption.
Enduring digital artworks
While NFTs are forever, the digital artworks are in danger of being lost. With NFT+, the link to the artwork on the 4ART platform is part of the immutable metadata, with IPFS as additional backup.
Forensic Watermark
We offer the patented digital fingerprint for physical art, securely connecting it to its NFT+. Digital artworks are identified with a forensic watermark, providing the same high level of safety.
Open trading enabled
An NFT+ created with the 4ART Professional App can be traded on the safe 4ART Marketplace or funnelled to the marketplace of your choice.
Professional promotion
Make use of our digital tools to promote your digital art and NFT+ to a global art lovers community and create a trusted portfolio with reputable provenance.
Creator Royalties
Transparently and automatically earn from continued royalties with every trade. Gain new income streams to help you focus on your passion.
FEATURES COMING UP FOR NFT+
4ARTechnologies will be launching the secure and integrated 4ART Marketplace for NFT+. It will only support 4ART generated NFT+, making it the safest marketplace available.
With the upcoming launch of the 4ART Marketplace for NFT+, 4ART curators, art experts and celebrities will curate NFTs to segment the NFT marketplace and avoid user overload due to an excessive number of available objects.
Combine physical and digital artworks with NFTs in multimedia collections and stream them using dedicated applications for digital picture frames. Don't just own it, enjoy and share it.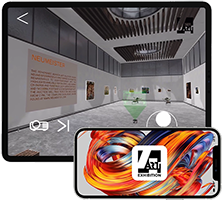 Want to achieve more and
become more profitable?